Chana masala (Chickpea curry)
Since travelling is pretty limited these days, why not travel with your taste buds by making this Indian chickpea dish called Chana Masala?
It is really quick to make, yet tasty! This hearty stew-like curry is definitely a practical recipe to make on busy weekdays. Served with naan bread or rice, it is also quite comforting for those cold days coming up!
---
Preparation time: 10 minutes
Cooking time: 15-20 minutes
Quantity: 4 portions
Ingredients
2 tbsp (30 ml) oil
1 medium onion, finely diced
3cloves garlic, minced
1 tbsp (15 ml) ground cumin
2 tbsp (30 ml) fresh ginger, grated
1 tbsp (15 ml) garam masala
1 tsp (5 ml) ground coriander
1 tsp (5 ml) smoked paprika
2 tsp (10 ml) turmeric
2 fresh medium-sized tomatoes, diced
1 big can (28 oz or 790 ml) chickpeas, drained and rinsed or 3 cups cooked dried chickpeas
2 tbsp (30 ml) sugar
1 cup (250 ml) water
2 Tbsp lime juice (plus more to taste)
Salt and pepper to taste
1/2 cup fresh cilantro, chopped
Instructions
Heat oil in a pot over medium heat. Add chopped onion, garlic and grated ginger. Sauté for about 5 minutes.
Add the spices: cumin, garam masala, ground coriander, smoked paprika and turmeric. Sauté for 2-3 minutes.
Add the diced tomatoes and cook for another 5 minutes.
Add the chickpeas, water and sugar. Season with salt and pepper. Lower the heat to low-medium and simmer for 10 minutes
Add the lime juice at the end of the cooking process and sprinkle with chopped coriander before serving.
Serve with rice or naan bread. Enjoy!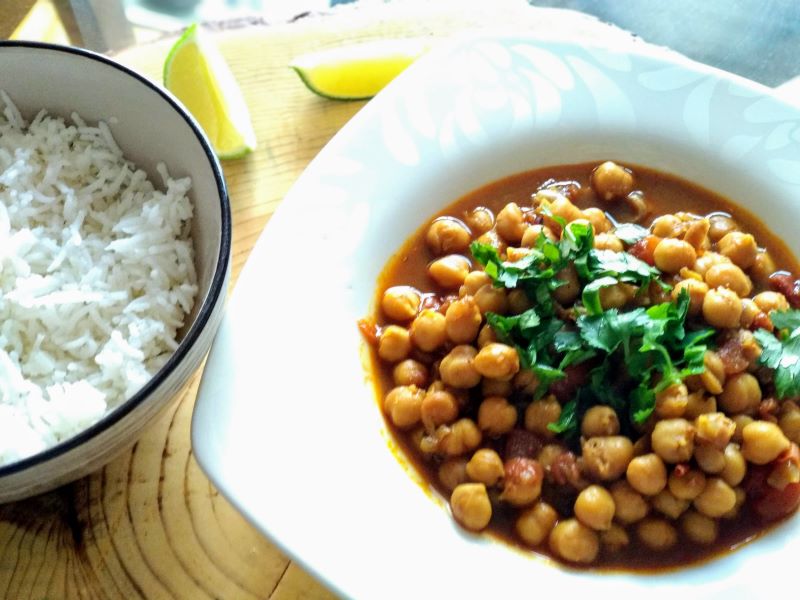 ---